Women's Leadership Conference Speakers
We are pleased to feature the following speakers:
Keynote Speaker, Erin Andrews
Erin Andrews is an Emmy nominated sports broadcaster as part FOX Sports' A Team. Andrews can be seen weekly on "FOX NFL Sunday," a show that records a staggering 56.4 million unique viewers, doing sideline coverage and features, as well as reporting for "NFL Thursday Night Football" and "America's Game of The Week," the most-watched show in all of television for the last 12 seasons and most-watched NFL window for the last 20 seasons.
Earlier this ye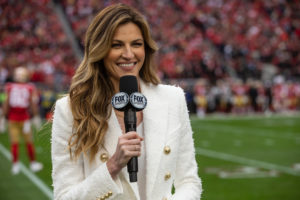 ar, Andrews launched a podcast that she co-hosts with Charissa Thompson called "Calm Down with Erin and Charissa" for iHeartRadio. The podcast consists of unfiltered conversations between two girlfriends about life, gossip, sports and pretty much every random topic that needs to be dissected.
Andrews' recently added "creator" to her long list of titles with the launch of her women's NFL apparel line, WEAR by Erin Andrews. The fashionable, comfortable and subtle line, designed for women to wear anywhere and everywhere, has quickly garnered notable attention- becoming one of the top NFL women's only brand since it launched in October 2019. Due to overwhelming demand, WEAR has expanded to the NBA, NCAA and NHL and is projected to double in sales in 2021.
In addition to being a trailblazer in the sports world, Andrews also made a name for herself in entertainment as she co-hosted ABC's long-running reality series, "Dancing with the Stars," alongside Tom Bergeron for 11 seasons. Having a unique perspective on the competition, Erin was also a contestant in 2010, where she was paired with Maksim Chmerkovkiy and earned third place. Recent notable appearances include her coverage of Super Bowl LIV, Super Bowl LI, Super Bowl XLVIII, the 2021 NFC Championship Game, the 2015 & 2014 World Series, the 2015 & 2014 MLB All Star Games and hosting FOX's "Prime Time College Football Pregame Show." Prior to her move to FOX, Andrews spent eight years at ESPN where she hosted the first hour of ESPN's "College GameDay" on ESPNU and was a features reporter for the full three-hour program, congruently serving as a sideline reporter for NCAA football and basketball games. Erin began her career with Fox Sports-Florida South as a freelance reporter and Tampa Bay Lightning reporter for the Sunshine Network. She joined ESPN in May 2004 as a reporter for the network's National Hockey League coverage and quickly become a fan favorite, transitioning into college football and basketball.
Meet Our Session Speakers!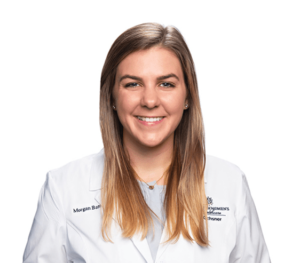 Dr. Morgan Bankston
Louisiana Women's Healthcare
Dr. Morgan Bankston graduated from the University of Georgia in Athens with a bachelor's degree in biology. The University High of Baton Rouge graduate was awarded her medical degree at Louisiana Health Sciences Center in Shreveport, LA, before undergoing a four-year residency in obstetrics and gynecology at the University of Tennessee Health Science Center in Memphis, TN. During her residency, Dr. Bankston's specialized training focused on minimally invasive and robotic gynecological surgery, contraception management, and high and low-risk obstetrics. She served as Chief Resident from 2000-2001.
Dr. Bankston is passionate about caring for women and looks forward to providing this in the community where she grew up. She believes in the importance of educating women about their health and healthcare options so that they are empowered to make their own decisions. As an OB/GYN at Louisiana Women's Healthcare, her goal is to help women be their best and healthiest selves at all stages of life.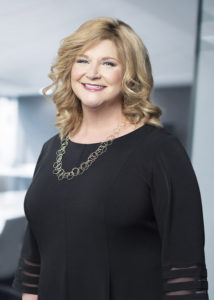 Mag Bickford
Attorney, McGlinchey
Mag Bickford is the Chair of McGlinchey's Labor and Employment practice group and Managing Member of the law firm's New Orleans office. She represents businesses and management in labor and employment litigation and provides general legal counsel on a variety of workforce matters. As a provider of management counsel, training, and education, Mag advises employers on best practices in the workplace and on drafting and implementing effective policies and procedures. Mag helps clients navigate the changes in statutes such as the Fair Labor Standards Act (FLSA), Labor Relations Act (LRA), Equal Employment Opportunity Act (EEOA), Family Medical Leave Act (FMLA), Americans with Disabilities Act (ADA), and other laws. In this capacity, she not only helps them adjust their practices to the current requirements, but she also helps prepare them for what will likely be the standards in the near future. She writes and presents frequently on the topics of workplace diversity, employer COVID-19 best practices, and myriad other timely topics.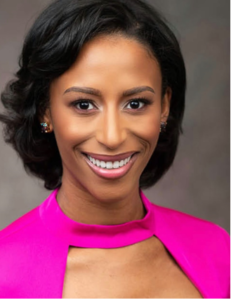 Whitney Breaux
Global Brand Director | Eli Lilly | Day 18 Campaign | Founder
Whitney Breaux is a proud life-long resident of Baton Rouge and a 2005 graduate of Baton Rouge Magnet High School. In 2004, Whitney represented the city of Baton Rouge and went on to be crowned Miss Teen Louisiana! She is a two-time graduate of Louisiana State University with a BA in Political Communication in 2009 and MBA in 2011. Whitney was recognized as a rising business leader in 2010 by the Baton Rouge Business Report's Top 40 Under 40 at age 22.
Whitney is a global marketing and commercialization leader with more than 11 years of experience driving innovative and inclusion initiatives in order to transform business results. She currently serves as the Launch Readiness and Executive Leader for Eli Lilly and Company, the pharmaceutical company based in Indianapolis.
In March 2020, Whitney was diagnosed with stage 3 breast cancer at age 32. In response to her diagnosis, Whitney founded Day18Campaign a grassroots-amplifier campaign designed to encourage women and especially those under 40 to perform self-breast exams on the 18th day of each month. Day18 now has partnerships with Mary Bird Perkins, Woman's Hospital, Louisiana Cancer Prevention, Healthy BR and more are joining every day. In 2021, Whitney joined the board of directors for Woman's Hospital and provides her expertise as a transformational pharmaceutical marketing executive and patient.
Whitney is the proud mom of Jason DeCuir Jr, an elite all-sport athlete in the 7th grade at St. Jude School in Baton Rouge. In their spare time, Whitney and Jason enjoy traveling, making paper airplanes, playing with their chocolate lab "Corona" and watching college football especially the LSU Fighting Tigers!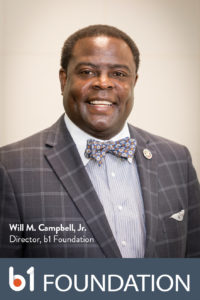 Will Campbell, Jr., MA
Director, b1 Foundation
Will Campbell joined b1 Foundation in 2021. Will is well known for his involvement in the lending industry, economic development programs, and community outreach initiatives. His experience in lending has empowered him to help many small businesses define and achieve their goals. His areas of expertise include loan packaging, strategic business planning, bank management and entrepreneurship.
During his career 27-year career in the financial services industry he has served as: VP of Commercial Services/ Mortgage Retail and the SBA Manager for Capital One Bank's SBA Lending Division, Vice President/Banking Center Manager for Bank One, and a Branch Manager for Wells Fargo Financial. He has also served as the Director of the Louisiana Small Business Development Center at Southern University where he oversaw and managed the center while providing business consulting to citizen in seven parishes. Will served 17 years as Captain in the United States Army Reserves, where he served as a Traffic Management Officer and Family Support Liaison.
Will is currently serving as an adjunct professor at Southern University, where he teaches Entrepreneurship in the MBA program. He is also the Senior Pastor of Serenity Praise and Worship Tabernacle Church, and a Managing Partner of Millennium Consulting Network, Inc.
Will received his Master of Arts degree in Management and Leadership from Liberty University. He received a certificate of Entrepreneurship Educators from Babson College, and he is currently pursuing his Ph.D. in Management and Leadership.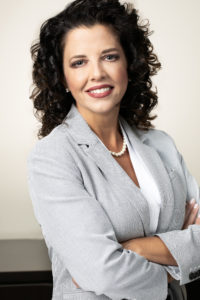 Amy Edwards
Commercial Banking Director, b1Bank
Amy Edwards is a St. Tammany Parish, Louisiana native.  Amy has worked in Commercial and Business Banking for over 25 years. She joined b1BANK as Commercial Banking Director in June of 2021.
Her banking career began at Hibernia National Bank, now Capital One, in 1996. While there, she advanced her career to Senior Director and Market Sales Executive for Greater New Orleans Business Banking.
Amy has served as Chair of the Board for the St. Tammany Chamber of Commerce as well as Chairman of the Board of Trustees for Leadership St. Tammany and is an alumnus of the Class of 2010.  She has been a member of numerous community organizations, was a Nominee for Woman of the Year in 2011 and 2012 for the Professional Women of St. Tammany and selected as "Northshore's Finest" in 2010 by the Cystic Fibrosis Foundation. Also serving her parish government, Amy sat on the Community Development Block Grant Committee for St. Tammany Parish to assist in monitoring CDBG Entitlement Grants received in St. Tammany Parish and served as a committee member for Northshore Legislative Alliance.
Amy is a graduate of Slidell High School and attended Delgado Community College and University of New Orleans majoring in Business Administration.  She became a licensed Notary Public for St. Tammany Parish in 1994.  She is a 2017 Graduate of the Emerging Leaders Executive Program by Darden School of Business at University of Virginia.
Amy also volunteers her time for non-profits such as Junior Achievement, Children's Advocacy Center, Habitat for Humanity, Partners in Giving Charity, and Northlake Christian School. Amy currently resides in Madisonville with her husband, Brady, their 18-year-old son, Collin and 15-year-old daughter, Riley.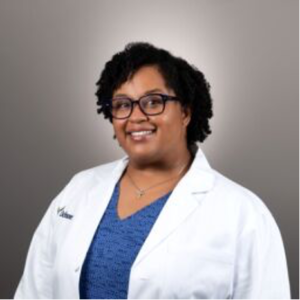 Dr. Courtney Gunn
Ochsner
Dr. Courtney Gunn received her undergraduate degree in psychology from Xavier University of Louisiana in New Orleans, her master's degree in clinical psychology from Northwestern State University in Natchitoches, and her doctorate in counseling psychology from Howard University in Washington, DC. She completed her internship in California through the San Bernardino County Department of Behavioral Health's Pre-Doctoral Internship Program in Clinical Psychology (combined Outpatient/Forensic track). She completed her postdoctoral training hours at the Eastern Louisiana Mental Health System in Jackson, Louisiana.
Dr. Gunn has been a licensed psychologist in Louisiana since 2021 and has been practicing at Ochsner since that time. She specializes in assessment and treatment services for children, adolescents, and adults. Her assessment services include psychological and psychoeducational evaluations for children, adolescents, and adults. Concerning treatment, Dr. Gunn utilizes cognitive-behavioral therapy and individual therapy for adolescents and adults.
In her free time, Dr. Gunn enjoys meditation, exploring the world through travel, and spending time with family and friends.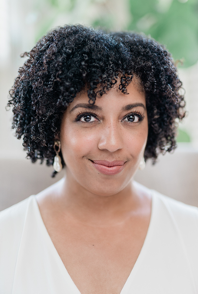 Victoria Adams Phipps
Vice President, Engagements and Impact | Fourth Economy
Victoria Adams Phipps is a nonprofit executive and impact strategist who was pivotal in solidifying New Orleans' status as a hub of entrepreneurial activity. She is the Vice President of Engagements and Impact at Fourth Economy, an innovative consultancy focused on fostering action to create great communities, impactful organizations, and strong economies.
Previously she served as Chief Strategy Officer at the New Orleans Business Alliance, the economic development engine for the city of New Orleans. In this role, she leads operational strategy, program design, and strategic communications. Most notably, in the midst of the COVID-19 pandemic, Victoria led relief efforts that generated $1.5MM in direct relief for New Orleanians, including gig economy workers, hospitality workers, and small businesses. Her work with the Gig Economy Relief Fund has received national acclaim from local and national media, including Forbes, Billboard, The Advocate | Times-Picayune, and Biz New Orleans.
Prior to joining the New Orleans Business Alliance team, Victoria was Executive Producer of New Orleans Entrepreneur Week, a week-long festival celebrating innovation and entrepreneurship that was a major driver of economic revitalization for New Orleans post-Hurricane Katrina. In this role, Victoria worked with organizations like Google, JPMorgan Chase, Salesforce.com, and Uber to engage over 50,000 event attendees, driving $4.3MM in funding and resources to local startup ventures. Her efforts contributed to New Orleans being ranked #5 City Where Entrepreneurship is Booming by Entrepreneur Magazine and solidified Inc. Magazine's declaration that New Orleans is the "Coolest Startup City in America."
Originally from, Miami, Florida, Victoria received her Bachelor of Science from Loyola University New Orleans and certification in Diversity & Inclusion from Cornell University. Victoria serves on the board of directors at Good Work Network, the Louisiana Fair Housing Action Center, and Junior Achievement of Greater New Orleans, where she chairs the Strategy Committee. She is a past Curator within Global Shapers, a global community of young leaders established by the World Economic Forum. She's an active member of the Junior League of New Orleans, and an alumna of the New Leaders Council Institute. Victoria has received numerous accolades including: Gambit's 40 Under 40; New Orleans Magazine's Top Female Achievers; Biz New Orleans' Women to Watch; and CityBusiness' Women of the Year. Most recently, she was named the Young Economic Development Professional of the Year by the International Economic Development Council and Top 40 Under 40 in the Economic Development Industry by Jorgen Consulting and Development Counsellors International.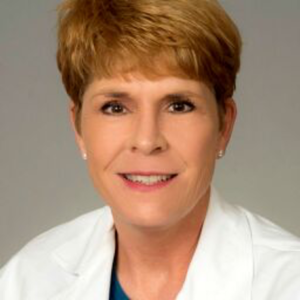 Sydney Prescott, RN, MSN, NP-C
Ochsner
Sydney Prescott, RN, MSN, NP-C, earned her Bachelor of Nursing degree from Southeastern Louisiana University. She has practiced as a registered nurse clinician with Ochsner for 22 years in breast screening and general surgery departments. Sydney returned to Southeastern Louisiana University for her Masters of Science in Nursing degree and was certified as an adult nurse practitioner and currently practices in the hematology/oncology and general surgery departments.
Sydney works with breast cancer patients during and after treatment, identifies and works with women at high risk for breast cancer, performs genetic testing and counseling, and manages abnormal mammograms and breast findings. She is the originator and facilitator of Hope Chests, the longest-standing breast cancer support group in the Baton Rouge area.

Frankie Robertson
CEO and Founder | The Amandla Group
Frankie Robertson, a nationally recognized, respected leader in maternal and child health is the founder and President of The Amandla Group, LLC, a social justice consulting firm dismantling systemic barriers that impact the health and wellbeing of Black and brown birthing people. A birth doula trained by Sista Midwife Productions and Dona International, she is also the Founder and President of Black Joy, an agency committed to providing doula services centered on joy, mental health wellness, and empowerment for birthing people and their support networks. In 2020, Frankie created #BlackJoy and #BlackMama joy, an interactive and uplifting web series featuring Black maternal wellness community conversations between Black birthing people and Black maternal wellness experts.
Frankie has worked in nonprofit organization management for over 20 years and in maternal child health for 14 years with several roles at March of Dimes.  She served as Regional Director of Advocacy and Government Affairs where she supported a team of staff, contract lobbyists and volunteers across the southeast region which included LA, MS, AL, TN, FL, GA, NC, SC, and Puerto Rico.  Key advocacy initiatives included maternal mortality and morbidity, social determinants of health, health equity, workplace protections, paid leave, maternal mental health, protecting immunization laws, health care coverage, newborn screening, neonatal abstinence syndrome, and smoking cessation.
Frankie has an unwavering and unapologetic commitment to social justice and equity.  She is passionate about maternal health and mental health and has been impacted by prematurity resulting in the premature birth of her daughter at 28 weeks gestation.  She applies her experience as a mission mom, training as a facilitator and alumna of Dialogue on Race Louisiana, training she received from the Interaction Institute for Social Change to facilitate racial justice work, and training as a birth doula, to address root causes of birth inequities and dismantle structural racism that leads to poor and sometimes deadly outcomes for Black women.
Frankie resides in Baton Rouge with her husband and two children, Levi II (6) born full term and Zoe Amandla (4) who was born three months prematurely.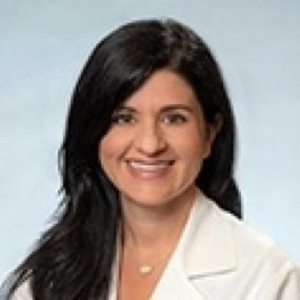 Dr. Kayla Sliman
Ochsner
A native of south Louisiana, Dr. Kayla Sliman is a three-time Tiger alumna, most recently graduating from LSU-HSC Medical School in New Orleans. After completing her internal medicine training at Georgetown University in Washington, D.C., she moved to central Texas for a fellowship training in gastroenterology. Dr. Sliman returned to her home state to practice gastroenterology and currently practices at Ochsner.
Dr. Sliman focuses on general gastroenterology with a special interest in treating patients with inflammatory bowel disease or motility disorders. She believes in a holistic approach to patient care, incorporating nutrition education and evidence-based alternative therapies with traditional medicine to achieve the best results for her patients.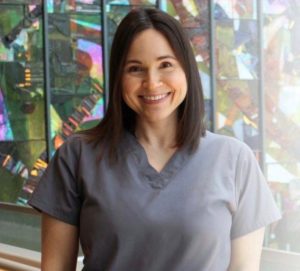 Robin Strate, RDN, LDN
Oncology Dietician, Woman's Hospital
Robin Strate is passionate about food and nutrition. She loves sharing her knowledge with anyone that will listen. Robin works as an Oncology Dietitian/Nutritionist at the Breast and GYN Cancer Pavilion at Woman's Hospital. With her 14 years of experience, she guides women on improving their lifestyles through nutrition education. She is a native resident of Baton Rouge and graduated high school from the former Bishop Sullivan. Robin received her Bachelor of Science from University of Louisiana – Lafayette in 2007, completed her internship at Nicholls State and became a registered dietitian in 2008. She is married to her wonderful husband of 12 years and has 2 children she adores. When Robin isn't working, you can find her cooking in the kitchen, at the gym or attending mass at Our Lady of Mercy.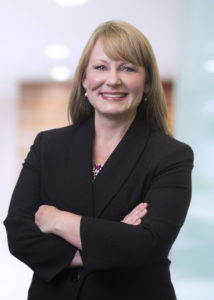 Amanda Stout
Attorney| McGlinchey
Amanda Stout is an attorney in McGlinchey's Baton Rouge office who had twenty years of experience defending clients in employment, financial services, and commercial litigation at both the trial and appellate level. In her employment law practice, Amanda has defended local government entities as well as private employers against alleged violations of federal and state statutes governing discrimination, harassment, whistleblower claims, wage and hour claims, and noncompete agreements. She has represented employers in responding to allegations brought before the Equal Employment Opportunity Commission (EEOC), the Louisiana Commission on Human Rights, and the U.S. Department of Labor. Amanda also works with clients to prevent employment claims by drafting policy manuals, conducting training seminars for managers and employees, and advising clients on employment decisions such as hiring and termination.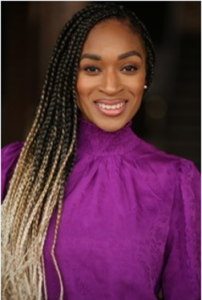 Tia L. Whittington
CEO and Founder | H Kyle Boutique | Brand Strategist | Influencer
"I went to school to be an educator, and I found myself thinking about entrepreneurship, after a consistent desire to do more. Teaching is great and one of the noblest professions, but I've always felt a pull to pursue a career in fashion. I have a passion for style, and the birth of this boutique came about after some years of mental preparation, prayer and good timing." (Tia Whittington, InRegister Magazine, 2015)
Owner and curator of H Kyle Boutique in Gonzales, Louisiana, Tia Whittington, has eight years of experience in the retail merchandise industry. Given the passion of fashion by her late mother Martha, Tia started H Kyle Boutique in her honor after she succumbed to cancer in 2011. Tia kept their boutique dream alive by opening H Kyle – named after her own daughter – in 2013. H Kyle Boutique has been featured in the Baton Rouge Business Report, the Best of 225 Edition of 225 Magazine, and featured in the highly coveted The Scout Guide Baton Rouge Best Women's Apparel and Gift Boutique.
Tia is a graduate of St. Joseph's Academy and Louisiana State University.  She is also a graduate of the very prestigious 10KSB Goldman Sachs Program.  Tia is an active member of Junior League of Baton Rouge and Alpha Kappa Alpha Sorority, Inc. She also serves on the Board of Directors for St. Joseph's Academy.
Tia is married to Barry Whittington, Jr. and has two children, Harper Kyle (8) and Barry III (4).
________________________________________
THANK YOU to our 2022 Sponsors!
Presenting Sponsor


Partner Sponsorship


Patron Sponsorship
Baton Rouge Business Report
Blue Cross and Blue Shield of Louisiana/Healthy Blue
Entergy
Huey and Angelina Wilson Foundation
Lamar Advertising
Office of Mayor-President Sharon Weston Broome
Ruby Slipper
Kathryn Sullivan
Woman's Hospital
Supporter Sponsorship
Aetna
Coca-Cola
Cox
Jones Walker
Maughan Law Firm
Shoppers Value Foods
Tiger Athletic Foundation
Ally Sponsorship
BXS Insurance
DOW
Hidden Gems Real Estate
ICF, International
Kendra Scott
London Bridge Early Learning Center
Methanex
TWRU CPAs & Financial Advisors
YWCA
_______________________________________