Women's Leadership Conference Speakers
We are pleased to feature the following speakers:
Keynote Speaker, Jennifer Hyman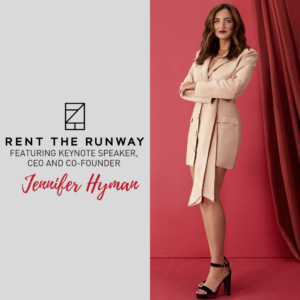 Jennifer Hyman serves as the CEO of Rent the Runway (RTR), which she co-founded in 2009 while a business student at Harvard. RTR is transforming the way modern women get dressed by enabling women to rent clothing. RTR has not only become a $1 billion business—a valuation fewer than 20 women-owned companies in the U.S. have ever reached—but also did so when she was nine months pregnant.
Hyman is a mission-driven leader and has built RTR from an idea into a high-growth company with one of the most beloved brands in the country. Her proudest accomplishment has been to equalize benefits for her salaried and hourly workers and to become a national advocate of business leaders' responsibility to become moral leaders.
Hyman serves on the Board of Directors of The Estée Lauder Companies and Zalando, and is a Founding Member of the NYSE Board Advisory Council, which champions increased board diversity.
Session Speakers Coming Soon!
________________________________________
THANK YOU to our 2023 Sponsors!
Presenting Sponsor


_______________________________________