Women's Leadership Conference Speakers
We are pleased to feature the following speakers:
Keynote Speaker, Jennifer Hyman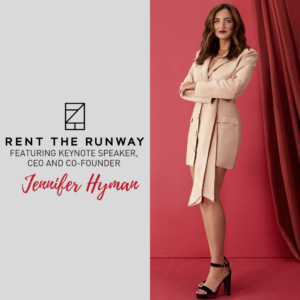 Jennifer Hyman serves as the CEO of Rent the Runway (RTR), which she co-founded in 2009 while a business student at Harvard. RTR is transforming the way modern women get dressed by enabling women to rent clothing. RTR has not only become a $1 billion business—a valuation fewer than 20 women-owned companies in the U.S. have ever reached—but also did so when she was nine months pregnant.
Hyman is a mission-driven leader and has built RTR from an idea into a high-growth company with one of the most beloved brands in the country. Her proudest accomplishment has been to equalize benefits for her salaried and hourly workers and to become a national advocate of business leaders' responsibility to become moral leaders.
Hyman serves on the Board of Directors of The Estée Lauder Companies and Zalando, and is a Founding Member of the NYSE Board Advisory Council, which champions increased board diversity.
Session Speakers
Health & Wellness 
Ochsner Health
Viveca Johnson, Forward Moving Counseling & Consulting Services
Dr. Courtney Gunn, Clinical Psychology, Ochsner Health
Dr. Gunjan Raina, Heal 360
Finance & Entrepreneurship 
b1BANK
Kristi W. Richard, McGlinchey Stafford
Norisha Kirts Glover, NRK Construction
Beverly Brooks Thompson, Ph.D., CFRE, Carter Global

Crystal Robinson, Dominate with Crystal
Dima Ghawi, Leadership Consultant & Executive Coach
Lacy Dicharry, MS, MBA, Certified Dear to Lead Facilitator
Sarah Rainwater, NFP Corporate Services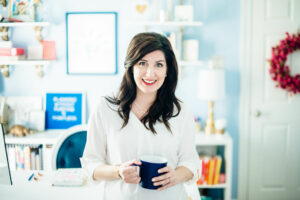 Anna Dearmon Kornick is a Time Management Coach, wife and mom who helps busy professionals and business owners master time management so they can stop feeling overwhelmed and start spending time on what matters most.
As the host of It's About Time – A Podcast about Work, Life and Balance, Anna shares time management tips, productivity strategies and real-life advice to help her listeners make the most of their time. In addition to teaching actionable takeaways, Anna interviews other go-getters to find out how they navigate family, friends, fulfilling careers and full schedules.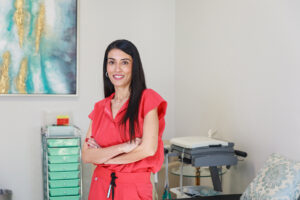 Dr. Gunjan Raina is the first female concierge physician in Baton Rouge, and one of the youngest in the country. She is taking a pioneering approach to medicine—and not simply because she's working in the semi-nascent field of concierge medicine, where patients pay a fee for various conveniences like same-day appointments and 24/7 physician availability. What makes Raina different is the crusade-like mission she's on to counsel, educate and, when necessary, cajole her patients into leading a healthier physical and emotional lifestyle. As one patient says, "She's an all-in physician with a passion." Patients say this is the benefit of having such a close relationship with their primary care doctor. Raina, who advocates for vegan and alcohol-free living, is carving out a niche fighting obesity not only with her patients but also through her efforts across the community—as well as in India and Canada where she also practices.
Katherine LangolisGraduated from LSU in Bachelors of Science in 2006.  Completed an internship at Southern in 2007.  Worked at Earl K Long hospital doing inpatient and outpatient work for about five years, then Sage Rehab as the clinical dietitian and dietary manager for 2.5 years.  I've been with Blue Cross since Aug 2014.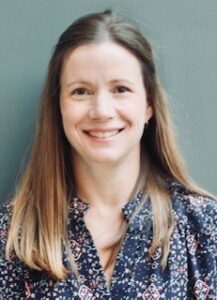 Laura Vidrine, MS, RDN, LDN, CDCES graduated with a Bachelor's in Dietetics in 2000 from LSU and obtained her master's in nutrition from Louisiana Tech University.  During her 20 years as a Registered Dietitian, she has worked at Pennington Biomedical Research Center focusing on lifestyle and behavior change through research for successful weight loss.  The Baton Rouge Clinic where she focused mostly on diabetes education along with obtaining her Certified Diabetes Care and Education Specialists (CDCES) license.  She has been with Blue Cross and Blue Shield of Louisiana since August of 2014.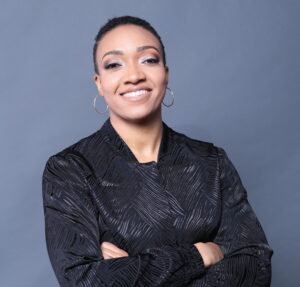 Crystal Robinson has been described by many as the ultimate accountability partner and real life Wonder Woman. She has been known to DOMINATE her day through her no excuses lifestyle. As the CEO and founder of Dominate with Crystal, she serves as a business coach and strategist who helps overwhelmed business owners and serial entrepreneurs to create customized systems, build effective teams and maximize profits while minimizing their efforts and enjoying more time flexibility and freedom from the daily grind.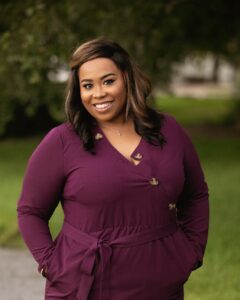 Viveca Johnson is a therapist, entrepreneur, and community servant.  She is a licensed professional counselor and a national certified counselor that is passionate about empowering each client with the tools and strategies to foster change and move forward in a more satisfying and holistic life.  
Viveca is the owner of Forward Moving Counseling and Consulting Services, LLC. She holds over fifteen years of experience in the field of mental health. In her clinical experience, she has worked with diverse populations in providing individual, family, marriage, and group counseling. Johnson specializations are in trauma and stress related disorders, grief and loss, mood disorders, pre-marital and marital counseling, relationship issues, and women's issues. Viveca holds additional certifications and training in trauma focused-cognitive behavior therapy, couples' counseling, and telemental health counseling.  
Viveca Johnson is an honor graduate of Millsaps College where she earned her Bachelors of Science in Psychology. She earned a Master of Science in Clinical Counseling from Loyola University New Orleans.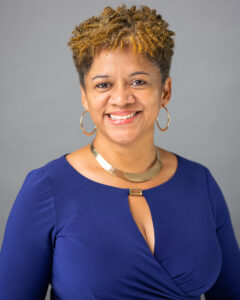 Nenette Gray is the Founder and CEO of Lemonade Creative Marketing, LLC, a branded promotional merchandise agency that helps businesses leverage their brand to excite, engage, and inspire. With nearly two decades of experience in Marketing Management and award-winning sales consulting, Nenette has worked with several Fortune 500 companies. After being laid off from her pharmaceutical job in 2010, she decided to turn the lemons of losing her pharmaceutical job into lemonade and founded Lemonade Creative Marketing. Her current clients include ExxonMobil, Amerihealth Caritas Southern University, LSU, and Blue Cross Blue Shield of Louisiana. 
A native of Baton Rouge, LA and a graduate of Southern University in Business Marketing, Nenette is also an alumnus of the Goldman Sachs 10000 Small Businesses program. In her free time, she enjoys traveling, trying new cuisines, and exploring the great outdoors, whether it be hiking or kayaking.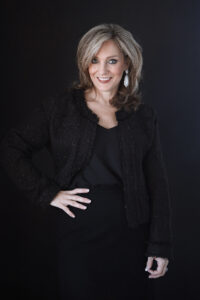 Beverly Brooks Thompson, Ph.D., CFRE, is a published academic and practitioner in the field of philanthropic leadership. She holds a Doctorate in Human Resource Development, specializing in Organizational Leadership, with more than 25 years of fundraising campaign experience. Her fundraising counsel focuses on major and mega gift strategies, leadership coaching, campaign counsel and readiness, capacity building, and organizational assessment.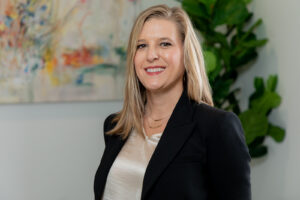 Sarah Rainwater was born and raised in Winnsboro, a small town in North LA.  After earning both a Bachelor of Science degree in Business and a Master's degree in Business Administration from Louisiana Tech University, Sarah moved to Baton Rouge in pursuit of a career and a boy.  
She eventually married the boy – her high school sweetheart, Scott – a local attorney.  They have three very active children:  Two sons ages 13 and 10, and a daughter who is 6.  Sarah has been very involved in her children's school as well as fundraising for several non-profits.  Additionally, she has served in various positions on numerous boards and committees both within her industry and outside.
Career-wise, Sarah is the Director of Client Services for NFP Corporate Services (LA), Inc.  At NFP, she is responsible for the oversight of the benefits programs in place with all of their corporate clients. It is through her firm that Sarah was first introduced to the concept of business coaching and some of the information/resources she'll be sharing with you today.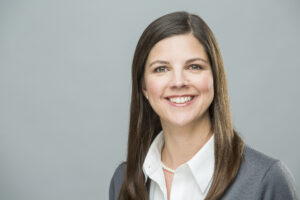 Angelle Bertrand David serves as the business development officer and banking center manager at the b1BANK's Breaux Bridge Banking Center. She has been with b1BANK for eight years. She and her team assist local clients to help them identify banking solutions and reach their financial goals. 
Angelle is a 2016 graduate of Louisiana State University. She actively serves on the Breaux Bridge Area Chamber of Commerce, the St. Bernard School of Advisory Council, and is an active member in the Junior League of Lafayette where she serves as a member of the Management Team in her 12th active year. Angelle is married to Steven and together, they have two children, Percy and Patrick.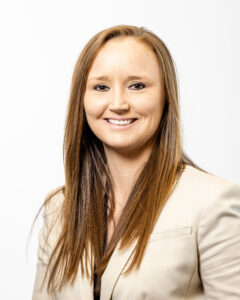 Britany Eikner is a Certified Financial Planner (CFP®) with b1BANK's affiliate Smith Shellnut Wilson, LLS (SSW), an SEC-registered investment advisory firm. Ms. Eikner uses in-depth analysis and collaborates with other financial professionals to create custom comprehensive plans to help clients meet their financial goals. She began her career with SSW in 2013 supporting clients through investment portfolio analytics, quarterly and annual reporting and managing fixed-income assets and equity trade executions and settlements. 
Ms. Eikner received a Bachelor of Mathematics and a Master of Education from Delta State University. She enjoys being outdoors running and biking, traveling and spending time with friends and family.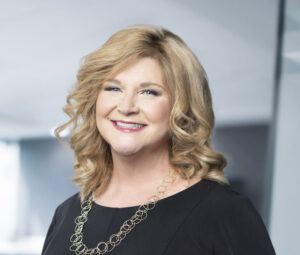 Magdalen Blessey Bickford represents businesses and management in labor and employment litigation and provides general legal counsel on a variety of workforce matters. As a provider of management counsel, training, and education, Mag advises employers on best practices in the workplace and on drafting and implementing effective policies and procedures.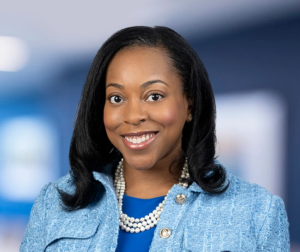 Camille Bryant is a Member in our Labor and Employment and Product Liability practice groups. Based in our New Orleans office, she guides employers through a wide range of employment law issues, whether through litigation or advice and counsel. In the areas of litigation, Camille has experience representing employers in both single-plaintiff and class action litigation. She is well versed in advising employers with respect to independent contractor classification, non-compete agreements, counsel and discipline, wage and hour issues, and employment discrimination. She also advises clients on issues under the Americans with Disabilities Act (ADA), including places of public accommodation and website accessibility, and she conducts investigations and trainings for clients. She also negotiates collective bargaining agreements and has coordinated anti-union campaign efforts.
Dima Ghawi is Middle-Eastern in her genes, American in her heart, and a global citizen in her spirit. She ignites the untapped potential in individuals across the globe, empowering them to shatter limitations and become courageous, purpose driven leaders. Her own journey is one of escaping confinement, crossing continents, and transforming her life's purpose. Harnessing the power of her story, Dima is committed to inspiring individuals to attain personal and professional growth.
Through keynote speeches, workshops, and executive coaching, Dima shares her unique leadership transformation journey with one goal in mind: motivate and activate those around her to reimagine their potential and grow into leaders.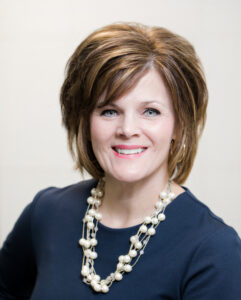 Alicia Robertson serves as the chief treasury management officer of b1BANK. Mrs. Robertson joined b1BANK in 2011 and has 35 years of banking experience. During her time with b1BANK she has also led retail banking, deposit operations, wealth solutions and the product development committee. As a leader, she enjoys coaching and mentoring others in their professional development. 
Mrs. Robertson is a 2014 graduate of the Moody Executive Institute's Executive Development program, and completed the Medill School of Journalism, Media, Integrated Marketing Communications Customer Experience Innovation program. She is a Greater Baton Rouge Food Bank board member.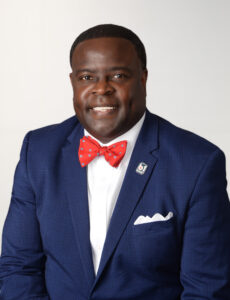 Will Campbell, Jr. serves as director of b1 Foundation. Mr. Campbell leads the Foundation's efforts of educating and supporting entrepreneurs, helping them define their goals and gain access to capital to launch and grow their business. Through his efforts, the Foundation has counseled 275 clients and conducted trainings to over 600 individuals.
Mr. Campbell has over 27 years' experience in the financial industry. His roles have included vice president of commercial services and mortgage, SBA lending and regional banking manager. He is also an adjunct professor at Southern University where he teaches Entrepreneurship in the MBA program. 
Mr. Campbell earned a Master of Arts degree in Management and Leadership from Liberty University, and received a certificate of Entrepreneurship Educators from Babson College where he is currently pursing his Ph. D. in Management and Leadership. He served 17 years as a Captain in the United States Army Reserves, where he served as a Traffic Management Officer and Family Support Liaison.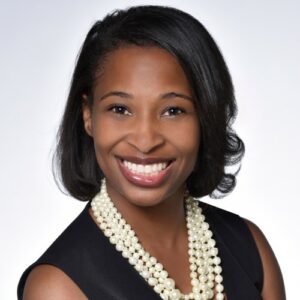 Norisha Kirts Glover is a native of Tioga, LA with a deep-rooted passion for serving others. After graduating from Louisiana State University she worked for education reform nonprofits across the country, before coming back home and eventually serving as Director of Development for the E. J. Ourso College of Business with the LSU Foundation. She made the call to take a leap and leave that role to start her own company, and now serves as the owner of Baton Rouge-based NRK Construction.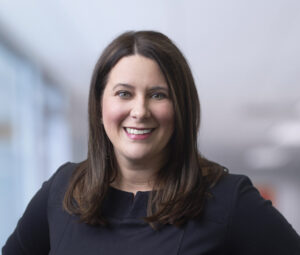 Kristi Richard advises clients across the United States in the areas of insurance regulation and compliance. She represents insurance companies and producers in the structuring of credit insurance policies and programs, ancillary products and services – especially ancillary products related to automobile financing – as well as form, rate, and other filings.
Kristi provides counsel to business of all sizes in the area of general business and corporate law, including entity formation, corporate governance, business contracts, vendor management contracts, and commercial finance as well as asset and stock acquisitions and sales. She advises small businesses regarding SBA certifications and construction businesses on contract negotiation and contractor licensing and compliance.
Kristi also advises individual clients in the preparation of wills and trusts, succession planning, and other estate matters.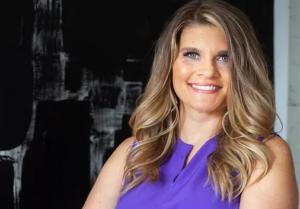 Some of the world's most successful speakers, leaders, and coaches rely on just one of these credentials in their work. Lacy Dicharry combines all three to deliver empowerment and actionable insight to every audience she reaches. 
A survivor of childhood trauma and the trials of the foster care system, Lacy's story of personal strength and resilience began at a young age. Resulting battles with mental health and addiction were to follow. To some, a story of perseverance. For Lacy, a journey to becoming the person she was meant to be.
Lacy has earned designation as a Master of Business Administration, a dual Master of Science in both Counseling Psychology and Leadership and Human Resource Development and is actively completing her PhD in Philosophy, Leadership and Human Resource Development. Her research centers on the same objective that forms the foundation of her career as both a speaker and workforce champion: revolutionizing leadership.