JLBR Family Resource Center Partnership
2 committees • 80 Active volunteers • 3,200 volunteer hours •
more than $75,000 annual value of volunteer hours •
IMPACT: 1,700 hospitalized children
JLBR FAMILY RESOURCE CENTER COMMITTEE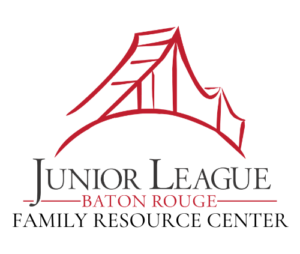 In the 2011-2012 League year, the Junior League of Baton Rouge entered into a future partnership with Our Lady of the Lake Children's Hospital, making our largest philanthropic donation of ONE MILLION DOLLARS, naming the Junior League of Baton Rouge Family Resource Center at the then future Our Lady of the Lake Children's Hospital.
The Junior League of Baton Rouge Family Resource Center provides families with information, resources and help for their medical questions. Whether it's a new diagnosis, tutoring or support groups, this space made possible through this partnership will be a great resource for families. The Center features classroom space, a business center and meeting space for small support groups. Certified Child Passenger Safety Technicians can also do car seat fittings and injury prevention work. Our volunteers also do rounds with the Patient Welcome Cart providing needed toiletries for families staying overnight unexpectedly. Our volunteers also provide many other amenities and services to make the hospital stay more comfortable. IMPACT: 1,700 hospitalized children, as well as their siblings and parents plus an endless number of children and their parents in the community who are not patients.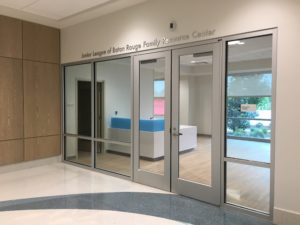 PATIENT ACTIVITY DAYS COMMITTEE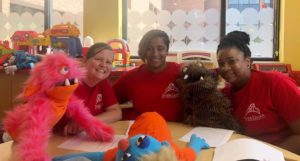 Since 2008, the Patient Activity Days Committee partners with the OLOL Children's Hospital Child Life Department which is a clinically based program that focuses on meeting the needs of hospitalized children and families through education and preparation for medical procedures, emotional support, therapeutic play and developmentally appropriate activities. Our volunteers facilitate play activities for patients and families in the hospital playrooms and in patient rooms when a child is unable to go to the playroom. These activities include arts and crafts, literature, music, and dramatic play. This type of interaction greatly improves the health outcomes for these young patients.