Free & Open to the Public!
IMPACT: StoryTime in the Garden provides information about the importance of early childhood literacy to more than 5,000 children and families by providing 420 hours of service through storytelling, crafts, and activities. The committee distributed more than 600 books to families to begin or add to their current home libraries.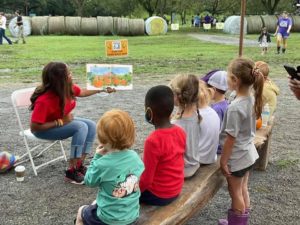 StoryTimes are held monthly at the beautiful Burden Museum and Gardens, which provides a perfect backdrop for introducing children to the farm to table concept. StoryTime in the Garden features storybook readings and imagination-themed activities for children ages 3 to 8 every 30 minutes beginning at 9 a.m. until noon, unless otherwise noted. All events are free and open to the public at the LSU Botanic Gardens at Burden at 4560 Essen Lane, Baton Rouge, LA 70809.
In addition to monthly StoryTime in the Garden sessions, families can enjoy the StoryWalk in the Garden any time. Located in the Trees and Trails section behind the Burden Museum and Gardens Visitor Center, the StoryWalk is an innovative and delightful way for children and adults to enjoy reading and the outdoors at the same time! Pages from a children's book are displayed throughout the outdoor path. As you stroll down the 0.1 mile trail, you're directed to the next page in the story. Interactive signs located along the path include author and illustrator information.