Women's Leadership Conference Sponsorship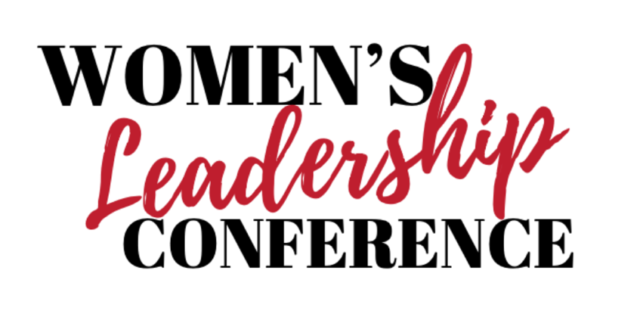 Presenting Sponsor


HILTON BATON ROUGE CAPITOL CENTER Map
MARCH 11, 2022    |    7:30 A.M. – 1:30 P.M.
Since 1932, Junior League of Baton Rouge has been working hard to build a better Baton Rouge.
With more than 1,600 members, Junior League of Baton Rouge (JLBR) is committed to promoting voluntarism, improving the community and developing the rich potential of women. You most likely know our major fundraisers – Hollydays, River Road Recipes and Touch A Truck. We are excited to announce our third annual Women's Leadership Conference! Join us March 11, 2022 from 7:30 a.m. through 1:30 p.m. The event will feature breakout sessions for personal and professional growth, a keynote speaker over lunch, and an exclusive VIP experience. Attendees are welcome to come and go as they wish throughout the sessions.
Sponsorship benefits include naming opportunities, logo and name recognition at the event, pre-event promotions and post-event acknowledgements. Sponsors are also actively promoted year-round on our website, through social media posts, in our publications, and through our 1,600+ members. It is only through individual and corporate sponsorships that JLBR can fulfill its mission of promoting voluntarism, developing the potential of women, and improving the community through the effective action and leadership of trained volunteers. Without your support, JLBR would be unable to produce programs and projects in collaboration with more than 30 local nonprofit agencies to make a meaningful impact on important issues in the areas of health, education and cultural development.
On behalf of JLBR, I am inviting you to join us for the 2022 Women's Leadership Conference. By joining us, you not only increase your company's brand visibility among thousands of potential customers, your organization also receives the benefit of participating in impactful corporate citizenship activities. Please contact us directly to discuss your sponsorship. We look forward to working together to build a better Baton Rouge!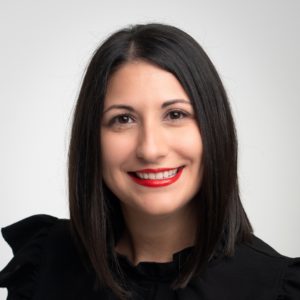 Sincerely,
Tristi Charpentier
President, 2021-2022
Junior League of Baton Rouge
*Note: JLBR members buying sponsorships in a business name should contact the office to complete the transaction, rather than use their member account login.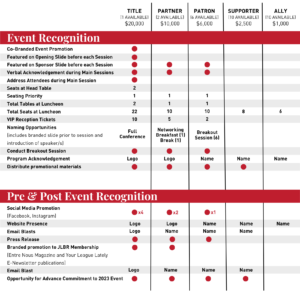 Looking for more benefits not listed? Contact us via email
________________________________________
THANK YOU to our 2022 Sponsors!
Presenting Sponsor


Partner Sponsorship


Patron Sponsorship
Baton Rouge Business Report
Blue Cross and Blue Shield of Louisiana/Healthy Blue
Entergy
Huey and Angelina Wilson Foundation
Lamar Advertising
Office of Mayor-President Sharon Weston Broome
Ruby Slipper
Kathryn Sullivan
Woman's Hospital
Supporter Sponsorship
Aetna
Coca-Cola
Cox
Jones Walker
Maughan Law Firm
Shoppers Value Foods
Tiger Athletic Foundation
Ally Sponsorship
BXS Insurance
DOW
Hidden Gems Real Estate
ICF, International
Kendra Scott
London Bridge Early Learning Center
Methanex
TWRU CPAs & Financial Advisors
YWCA
_______________________________________